If you're wondering whether the Alice-Toxaway Lake Loop can be completed as a day hike I assure you that it definitely is!
You may be walking back in the dark but that doesn't mean its not possible. We started out a little late in the morning… well 7:30 am however we forgot batteries for our camera so wasted not only an hour but added an extra two or so miles to the hike.
But not to worry, we still made it! And you can too.
Just be prepared with extra layers and bring a flashlight and it is no problem at all. In fact, it was quite nice to be out there under the moon and cooler temperatures.
THE ALICE & TOXAWAY LAKE LOOP HIKING TRAILS
Should You Hike The Alice and Toxaway Lake Loop Clockwise or Counter-Clockwise?
We Hiked The Alice-Toxaway Loop Counter-Clockwise
We hiked the Alice-Toxaway Loop counter-clockwise only because we hiked to Alice Lake the day before so we thought we would start out on the alternative route.
I will say in advance we preferred hiking the trail up to Alice Lake because the Toxaway trail seemed to go on forever at a slow gradual climb. The trail was hot and dusty (we hiked late July) with not a lot to see as it was through the tree's and bush.
Starting The Trail
The trail starts off beside Pettit Lake and within 0.5 miles you will reach the junction to Alice and Toxaway Lake. You will stay on the trail to the right to get to Toxaway Lake.
The trail begins to slowly climb for about a mile through an open hill and then dips and rises several times before descending to another junction where you turn left for Toxaway Lake or right to reach Yellow Belly Lake.
From here the trail is fairly flat for about 0.25 miles before it gradually climbs again until you reach a creek crossing. If you prefer to stay dry and keep your shoes on there is a log crossing a short way upstream.
After the creek crossing you will slowly climb for what seems a really long time.
Eventually you will come across a pretty waterfall and the bush begins to open up and you can see the surrounding mountains. After several miles you will pass a beautiful lake which I'm not sure if you can get close to as it seemed too far of the trail but not to worry as the next lake is right beside the trail and has easy access if you want to stop for lunch or a swim.
Toxaway Lake is only half a mile from here so you can wait to stop there however it has very little access especially at the start of the lake.
The trail continues alongside Toxaway Lake until it reaches the far end where it climbs quickly above some rocks leading to a spectacular view of Toxaway and the White Cloud mountains in the distance.
Enjoy the view for a few minute before you ascend the trail through the pass which is my opinion is the best part of the trail.
The hike through the pass leads you past another beautiful and lush lake, meadows, tons of colorful wildflowers, and stunning views of the mountain peaks that surround you.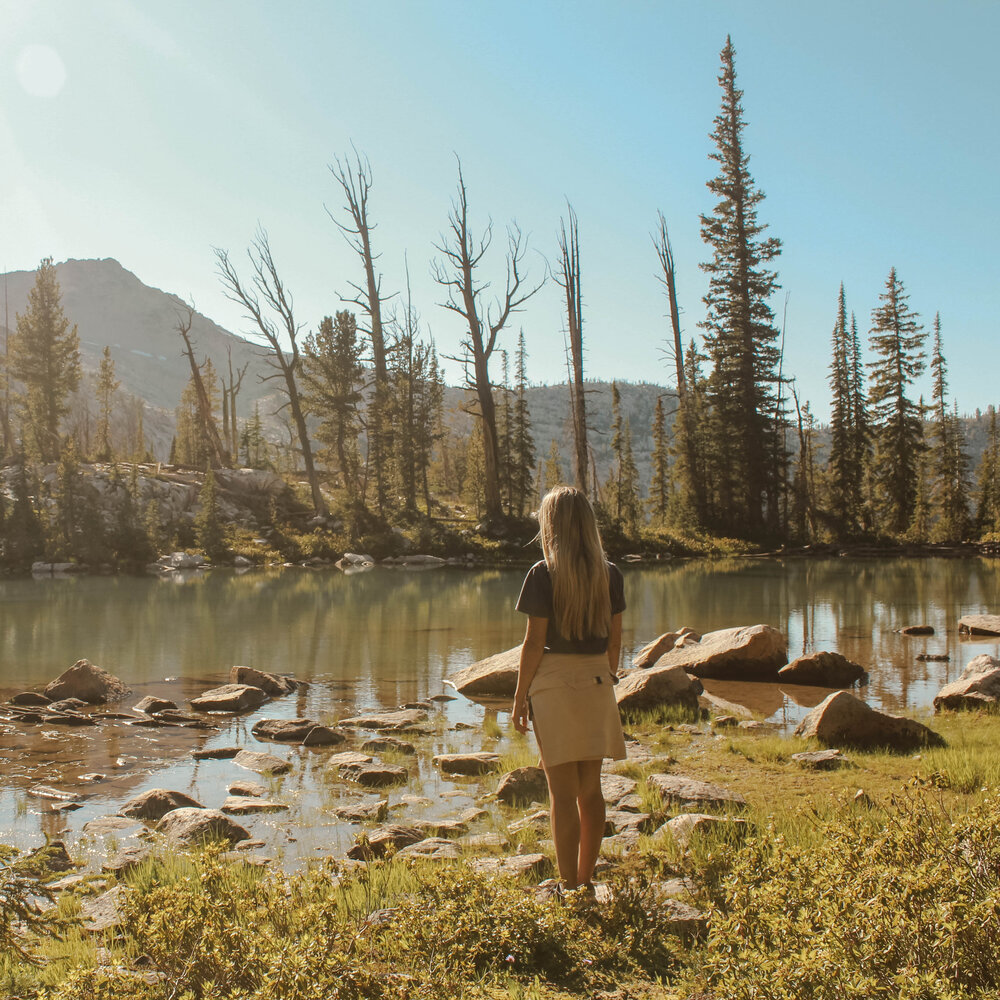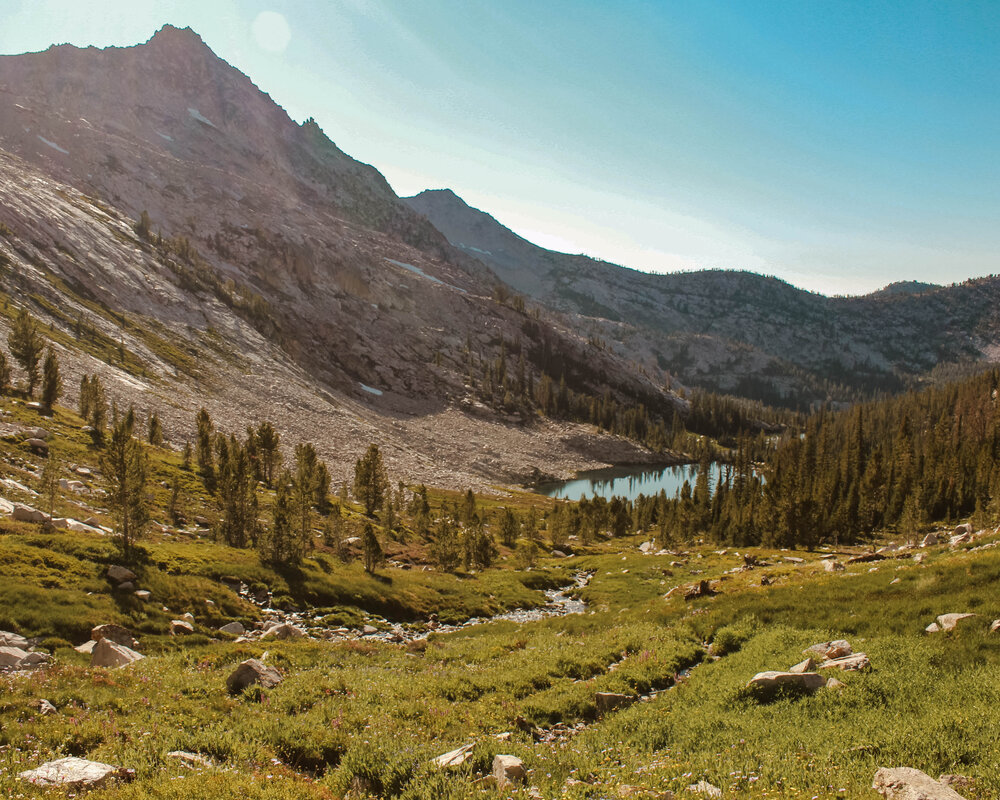 Right before you reach the summit of the pass you will hike through a very rocky section and then all of a sudden you are at the top looking at a majestic view of the valley below with Twin Lakes directly below and Alice Lake to the left. Stop for some obligatory photo's before beginning the descent.
Descending The Alice-Toxaway Loop Pass
The descent down is steep and rocky. You may need to watch where you step, however this is quite difficult with such beauty all around that is hard to stop looking at.
Once you reach the bottom you can choose to quickly visit Twin Lakes which is one mile off the trail or choose to march on to Alice Lake.
Alice Lake is huge and take about 15 or 20 minutes to walk around. The trail does run adjacent to the shore once you get to the beginning of the lake. This is probably the best spot to get photo's of Alice Lake.
Enjoy it while you can because the rest of the hiking trail is the long trek back!
It is fairly steep and very rocky so be careful and watch where you are stepping. There are nice views on the way back and eventually you will come to a set of switch backs before the trail goes through the forest and over several creek crossings.
All of the creek crossings have logs you can walk across or stones you can easily hop over if you don't have shoes you want to get wet.
The last part of the trail runs alongside Pettit Lake and will seem endless. It goes on and on and on. But once you reach that junction sign you are basically at the car park. Hurrah! You made it!!!
Getting To Alice & Toxaway Lake
The Alice Lake and Toxaway Lake hike starts at the Tin-Cup Trail Head at Pettit Lake. To get to Pettit Lake you need to head south on Highway 75 from Stanley or north from Ketchum and Sun Valley. Look out for signs to Pettit Lake (Forest Road 208). It is a gravel road but well-maintained so any vehicle will be able to drive down it.
Note: This is a popular trail and parking spots fill up quickly. Get there very early if you want to be close to the trail head otherwise you might need to park much further away.
You Might Also Enjoy: