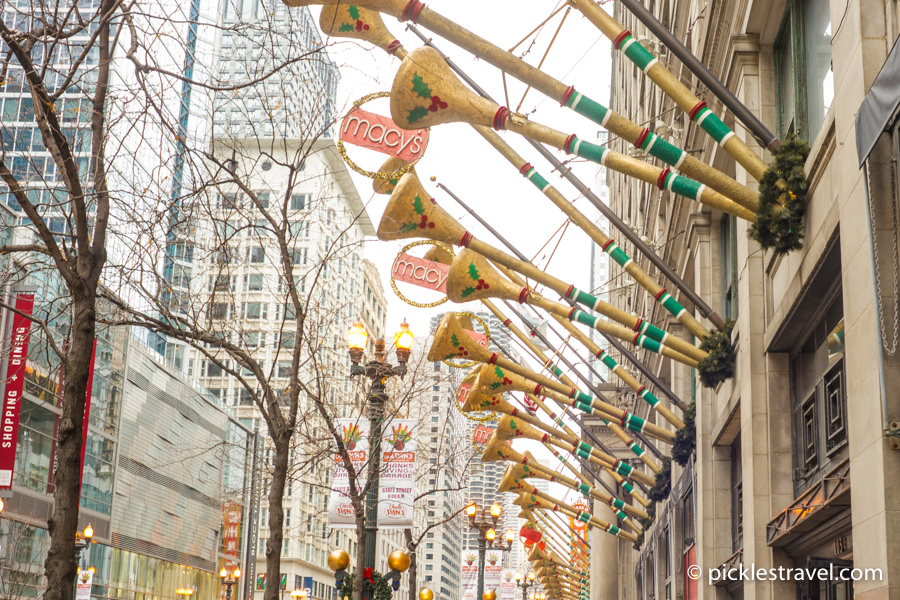 Macy's department store in Chicago may be the place to head for your family Christmas holiday destination. It has it all- history, decorations, restaurants, walking, window displays with a story, Christmas tree, shopping, and SANTA! Everything about it brought home the reality of Christmas in Chicago.
Note: I was hosted in Chicago by Enjoy Illinois and received an amazing tour of the Macy's Store as part of this hosted stay. All opinions expressed here are entirely my own.
This post may contain affiliate links, which means I may make a tiny percentage if you buy something using them. I only recommend places and products that I know and trust that I think can help you.
I am the first to admit- I hate shopping. I don't have the patience for it, among other things, but I LOVE, love, love what Macy's has to offer- an experience, over and over and over again.
Macy's Window Displays
Start your Macy's adventure by walking around the outside of 111 North State Street and getting your fill of the whimsical dancing, festive and stunning window displays that are created every year.
Each display has so many intricate details about it that you could spend an hour just looking at them. Unless it's too cold- then make it a fast walk and head inside to defrost, but definitely don't miss out on at least seeing them.
Macy's 7 Floors to Explore
It's usually too cold in November and December to spend excessive amounts of time outside walking the streets and exploring. So get your exercise by exploring the seven floors at Macy's- complete with balconies and unique vistas over looking Chicago!
The Walnut Room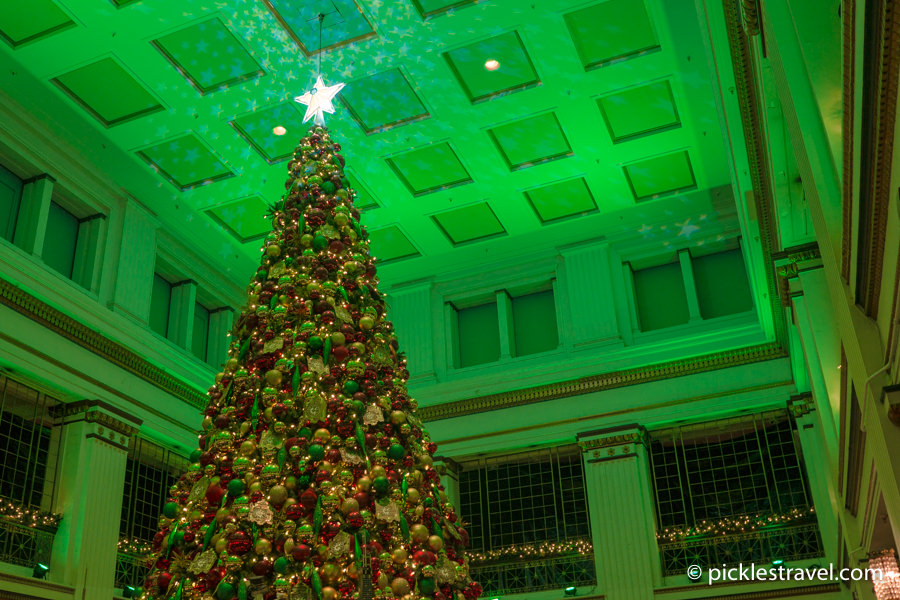 The Walnut Room houses the Christmas Tree and an exceptional restaurant. The history of the walnut room is so fascinating- started as a private lunch space for women, back in the days when they weren't allowed to eat outside of the home… Now it houses a Christmas tree that has 2000 lights and 6000 ornaments on it- all while hanging from the ceiling!
For the Kids: There are fairy princesses walking around the walnut room- ready to grant you a little pixie dust magic! I can only imagine how fabulous enchanting that would feel as a young girl (AND boy- my toddler son would LOVE an experience like this- hello bucket list!)
For the Adults: I've heard great things about their afternoon teas! I didn't have an opportunity to do it this trip- but it's officially on my bucket list!
Macy's Santaland and Santa
I may have just gone and tried to visit the @Macys Santa! Line was too long for my impatient mom-self (by myself!) but the walk in was enough to appease me! #enjoyillinois #hosted @enjoyillinois pic.twitter.com/lUP91exZeG

— Greta PicklesTravel (@PicklesTravel) November 16, 2018
Ok, so going to visit Santa without your toddler is more heart breaking than it is fun, so I didn't actually make it all the way in to see his glittering smile. I did, however, walk the impressive path to his cozy abode- and that alone was well worth my time! Cheerful Christmas music with something to look at from every angle- even up! It's the perfect spot to wait out a very special visit.
Have brunch with Santa (Say what?!) or meet him at Santaland on the 5th floor. He is in the house daily until December 24th.
Tiffany Ceiling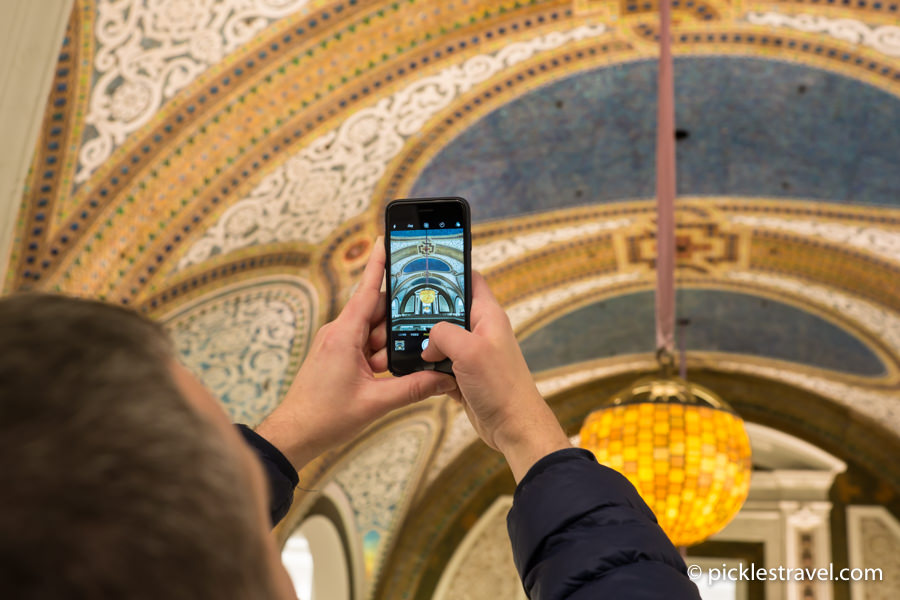 Ok, so it may not be a special holiday feature, but it is beyond cool and needs to be mentioned (at least a million times, since that's about how many pieces of glass are installed in this ceiling!)
It is everything that Tiffany and Co. represents- breathtaking. Insider trick- if you head up to the women's lingerie section of Macy's you can get up close and personal (or as close as the photo above anyway) with this gorgeous domed ceiling!
Floating Presents
Did I mention the seven floors of balconies? Well imagine being able to look out at these three floating presents (hung from 14 floors of height) from all the different angles! It's an incredible site to behold- and a VERY fun adventure trying to find your way around the store to the balconies overlooking them.
(Don't believe me on the coolness of the various perspectives? Swipe through the photos from my instagram post above and see for yourselves!)
Shopping
If you're in the store and you need to get presents for loved ones- you might as well take advantage of being in a massively amazing store full of seven floors worth of gift giving ideas!
Wondering what to get me? I'd take ALL these pickles! Or even a pickle shaped ornament would do in a pinch!
Details:
Location: at 111 North State Street in the heart of Chicago- incredibly walkable or take the "L".
Hours: 9 to 10 every day (Sunday until 9 pm) but the window displays are always there!
Want more fabulous Family Friendly adventures for a Christmas in Chicago?
Wondering where in Chicago to stay?
I was hosted in Chicago by Enjoy Illinois and received an amazing tour of the Macy's Store as part of this hosted stay- complete with details on it's history as Marshall Fields and the beautiful building in which it resides. All opinions expressed here are entirely my own.