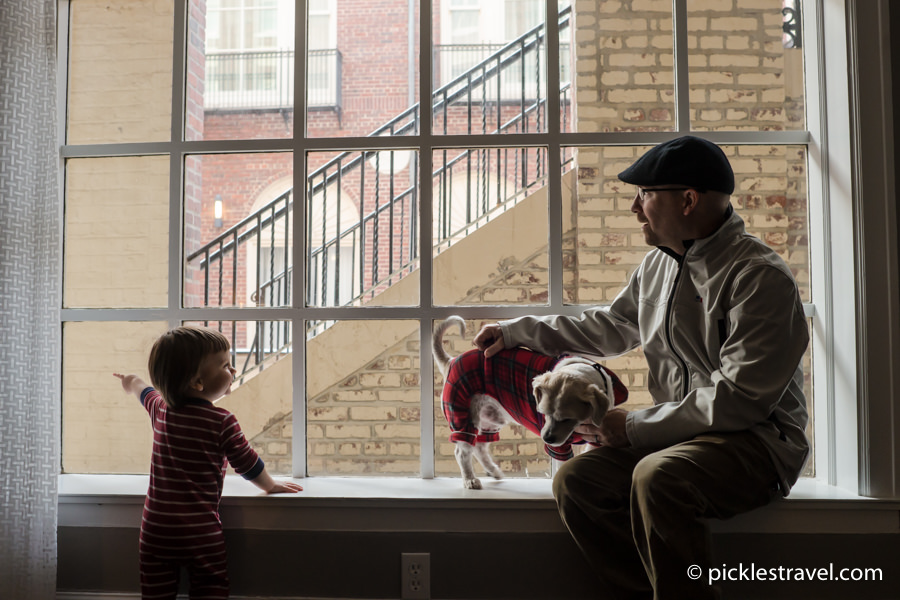 A comfortable, luxury hotel that is both kid and pet friendly is one of my favorite things and the Magnolia Omaha Hotel has it all! It's so important to have a relaxing place to call home when traveling with a toddler and dog. The rooms are beautiful, family-friendly and with plenty of fun spots to explore you can easily alternate between nap time to exploring.
Our stay at the Magnolia Hotel Omaha was part of a hosted trip from the amazing people at Visit Omaha. All opinions expressed are mine and my family's.
Note: This post contains affiliate links. If you make a purchase using one of those links I may receive a small percentage of the sale at no cost to you. This helps keep me in business- so thank you!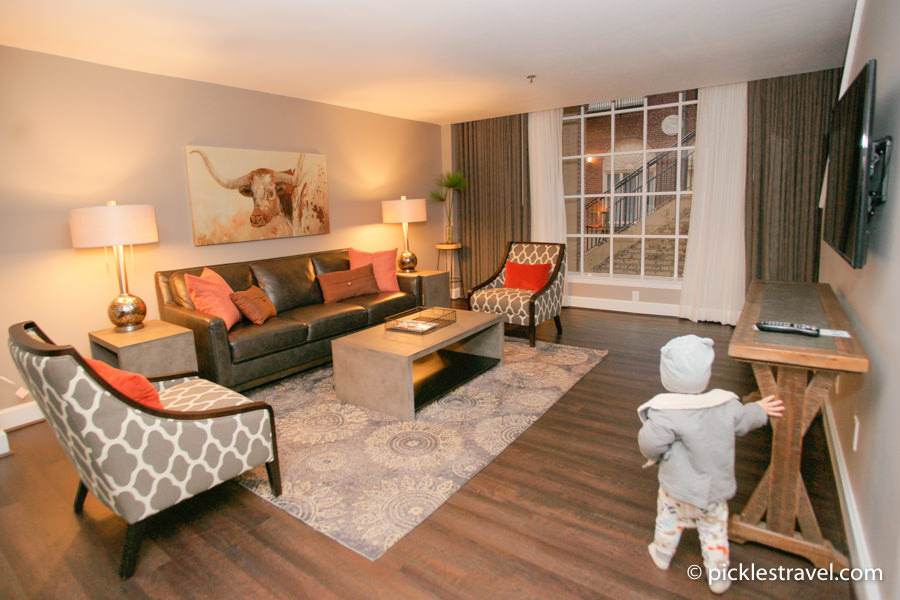 Whether you are looking for the perfect weekend date location or a place to stay while just road tripping through Omaha, the Magnolia Hotel chain should be top of your list. Bring along your dogs, kids plus enjoy exploring the area- it's located in an incredibly walkable area.
Luxury Stay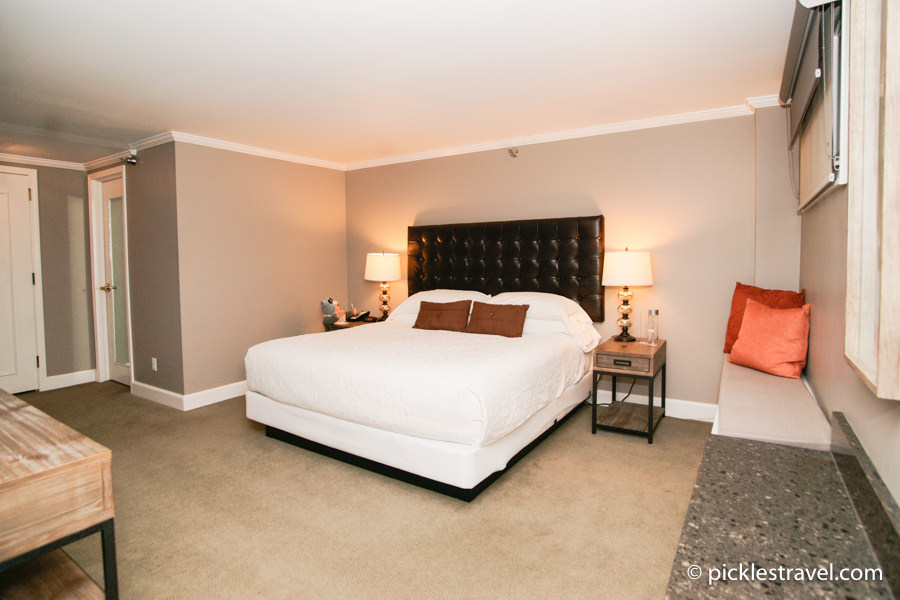 Our luxury room was two stories- with a huge picture window overlooking the courtyard. The main floor was living space- a living room with a little coffee nook that included a microwave and fridge (always a necessity when traveling with kids always need a snack. See these great Healthy Snack ideas when traveling.)
The only downside to the coffee nook was that the wasn't a water source on the first floor and they didn't supply any tea- which is always a bummer for me as a non-coffee drinker!
Dog Friendly Hotel
Not only is the Magnolia Omaha hotel dog friendly, but they don't add on an extra surcharge to have your fur baby stay with you!! The downstairs floor of our room had a nice, non-carpeted room where our bichon/shitzu pup could play, eat, and relax without working about the carpeting. Having a non-carpeted space is also nice to help keep the space clean from allergens if you there are pet allergies.
Kid Friendly Treats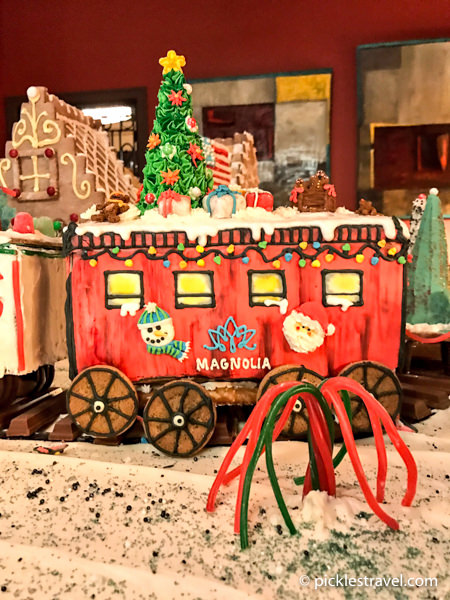 After a long day of exploring it may be hard to stay up until 8:00 PM, but I guarantee that you'll want to for the free cookies and milk that the Magnolia Omaha Hotel puts out every night. The kids will have so much fun being treated to such a wonderful experience!
If you go in the winter the kids (and adults alike) will be delighted in the gingerbread city that they make and display for the holiday season. Lakes of frosting, train tracks made of kit kat bars and a full train displaying all your favorite sweets. It's absolutely beautiful, as well as difficult to resist the temptation to just sneak a bite (so keep an eye on the kiddos!)
Even bigger bonus- they have a shuttle that will take you to the Henry Doorly Omaha Zoo– so no need to get back in your car!
Service
The staff was absolutely incredible at the Omaha Magnolia Hotel! Everyone was so nice, friendly and helpful. Our waitress at the restaurant even helped out with our toddler and helped show him the gingerbread town while we finished eating our delicious meal.
Walkability
When I travel I love to get out of my car and walk, walk, walk! There is so much more to see when you're exploring on foot and it's a huge requirement when staying in the center of a thriving downtown. At the Magnolia Omaha you are located right across the street from the Orpheum Theater and only five blocks away from the hubbub of The Old Market and some pretty fabulous restaurants!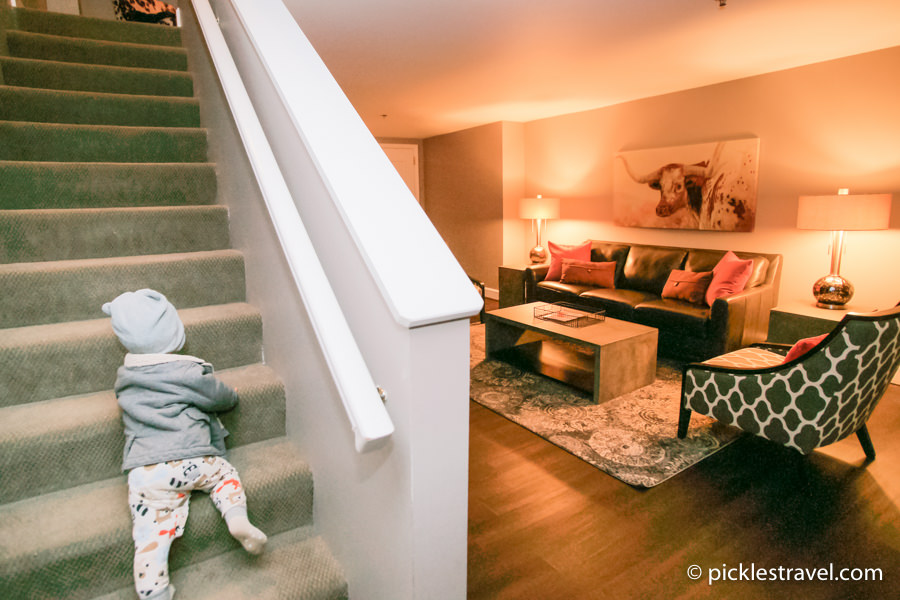 Details:
Location: 1615 Howard St, Omaha, NE 68102
Parking: Street has metered parking or there is also the option of 24/7 valet parking provided for a fee.